Demo Unlimited projects for the railroad include grading for new track and sidings, demolition of buildings, track maintenance, crossing repair and various other maintenance work in railroad right of way. Demolition projects include demolition of restaurants, schools, commercial buildings, as well as private homes.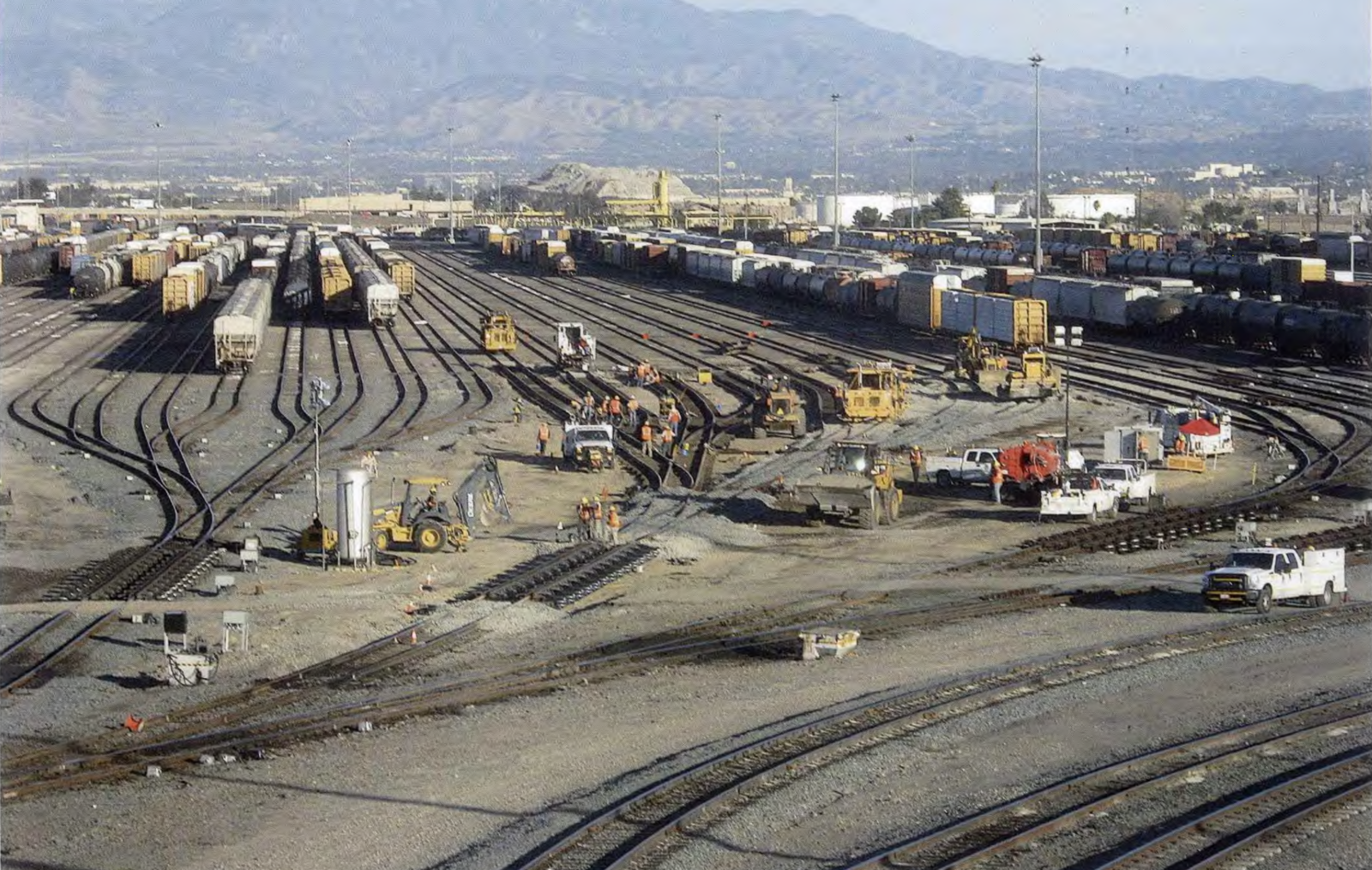 Union Pacific Railroad at "Group 5" in the West Colton Yard
Our project managers, who supervise these projects, have many years of experience. Jeff Curci has worked for the last 17 years on our jobs for the Union Pacific. Chris Bloch has 16 years experience and has worked for Demo Unlimited for the last year and a half as estimator and project coordinator for our demolition and grading jobs. Our office staff, Linda Smith, has 12 years experience billing and administering contracts.
Example Projects
Earthwork for I-5 widening in Buena Park, CA for OCTA (Orange County Transportation Authority)
Grading for new double track project near the Union Pacific Railroad Colton Yard
Earthwork for new spur tracks in Tucson, AZ and Las Vegas, NV
Bridge replacement/Raise at Bena (near Tehachapi), CA
Box culvert work at Santa Barbara, Amtrak Station
Landscape project at UPRR yard, Tucson, AZ
Emergency clean up of flood damage / haul in rock for Coachella Valley Water District
Operated watertrucks for dust control for Coachella Valley Water District
Demolition of multiple school properties for Desert Sands Unified School District
Demolition and property clean up for code enforcement, City of Indio and County of Riverside, CA
Demolition of commercial property as well as private homes

Highlight Projects
ND La Quinta Partners, LLC – Hideaway Country Club, La Quinta (approx. 300 acres)
Land clearing and rough grading
Bergman Companies – Desert Ridge Plaza, Rancho Mirage
Grading and paving for parking lot (strip mall)
Agua Caliente Band of Cahuilla Indians – Indian property
Palm Springs and Cathedral City
Clean up of property and demolition of houses
City of Indio – city owned properties
Demolition and clean up of multiple city owned properties
Demolition of Indio Bus Station
Desert Sands Unified School District – various school buildings
Demolition Wilson Middle School (Amistad High School project)
Demolition of 5 buildings of Indio High School
Ecowize Inc. – Revelle, Rancho Mirage
Demolition of Old Marywood School, Clancy Lane, Rancho Mirage
Wessman Development Inc.
Demolition of restaurants, Palm Desert and Rancho Mirage
Please contact us for more information and/or to request a bid for your projects.